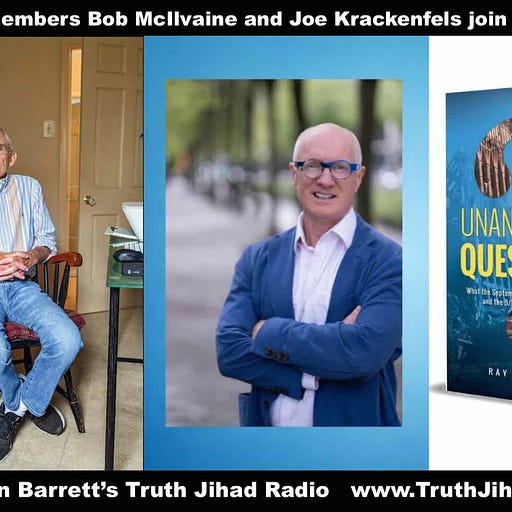 Sep 8, 2021 • 58M
9/11 Family Members Bob McIlvaine and Joe Krackenfels Join Author Ray McGinnis: "Our loved ones were murdered in controlled demolitions"
Exploring the most important issues the mainstream won't touch.
Family members Bob McIlvaine and Joe Krackenfels join Ray McGinnis, author of Unanswered Questions: What the September Eleventh Families Asked and the 9/11 Commission Ignored.
Bob McIlvaine's son Bobby, and Joe Krackenfels' nephew Leonard, were murdered on 9/11 by the criminals who orchestrated the explosive demolition of the World Trade Center. They are joined by author Ray McGinnis whose book Unanswered Questions"explores the efforts of the Family Steering Committee and other September Eleventh family members, and first responders, to have a transparent, accountable, and independent investigation into the attacks of Sept. 11, 2001." Ray McGinnis has also posted a list of resources for those wishing to learn more about the first responders' and family members' quest for truth and justice.
Bob McIlvaine's heroic quest for justice for his son Bobby was the subject of an article in last month's Atlantic that raised the obvious question: How did Jennifer Senior have enough time to do so much research on the McIlvaine family, while lacking time for the cursory research on 9/11 that would have shown that Bob McIlvaine is right, and therefore a real American hero?
Joe Krackenfels writes:
"I have never quit or given up. I believe I would have been a ferocious detective had I chosen that career path (Bob too). As a retiree I watch many crime shows. Today two killers were convicted after 40 years on the run. Amen – 20 more years to go until we hang the 9/11 slime! This Covid BS might speed things up?"